For Parents / Para los Padres
Parents are leaders / Los padres son líderes
If you want to see thriving and safe schools and communities, you are a leader. Parents are natural leaders and the backbone of our communities. But we need to exercise our power. That's what POWER-PAC IL is all about!
Si usted quiere ver escuelas y comunidades prósperas y seguras, usted es un líder. Los padres son líderes naturales y la columna vertebral de nuestras comunidades. Pero necesitamos ejercer nuestro poder. ¡De eso se trata POWER-PAC IL!
What is POWER-PAC IL? / ¿Qué es POWER-PAC IL?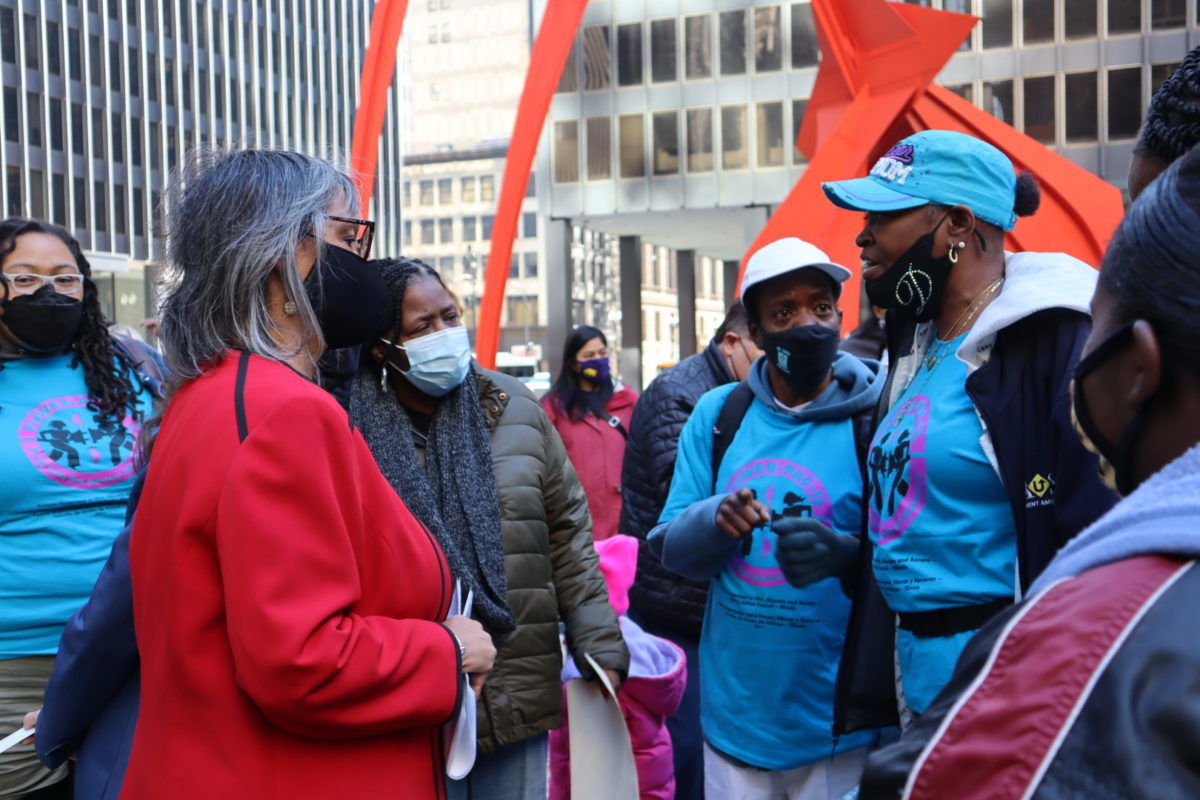 POWER-PAC IL stands for Parents Organized to Win, Educate, and Renew – Policy Action Council, Illinois. We're a cross-cultural, citywide membership organization of low-income and working parents and grandparents. Our mission is to build a strong voice for our families by uniting parents across race and community to issues that are important to us. POWER-PAC IL currently includes members from all across the Chicago area—Northwest, West Side, South Side, and Southwest. Outside of Chicago, we have branches in Aurora, East St. Louis, Elgin, and Evanston.
POWER-PAC IL significa Padres Organizados para Ganar, Educar y Renovar – Concilio de Acción de Pólizas, Illinois. Somos una organización intercultural de toda la ciudad de padres y abuelos de bajos ingresos y trabajadores. Nuestra misión es construir una voz fuerte para nuestras familias uniendo a los padres a través de la raza y la comunidad a las ediciones que son importantes para nosotros. POWER-PAC IL incluye miembros de todo el área de Noroeste, Oeste, Sur y Suroeste de Chicago. Fuera de Chicago, tenemos ramas en Aurora, East St. Louis, Elgin y Evanston.
History / Historia
POWER-PAC IL was founded in 2003 with the help of COFI. For two decades, POWER-PAC IL parents and grandparents have been raising our collective voice on behalf of our children and families!
POWER-PAC IL fue fundada en 2003 con la ayuda de COFI. Durante 14 años, ¡los padres y abuelos de POWER-PAC IL han levantado nuestra voz colectivamente en nombre de nuestros niños y familias!
Campaigns / Campañas
We focus on four issue campaigns that impact families in Chicago and across the state and nation. We meet monthly or bi-monthly by campaign. Join us for the campaigns that interest you most!
Nos enfocamos en cuatro temas de campañas que impactan a las familias en Chicago y en todo el estado. Nos reunimos cada mes o dos meses por campaña. ¡Únase a nosotros para las campañas que más le interesen!
Elementary Justice Campaign / Campaña de Justicia Elemental
In 2004, we launched this campaign to end the harsh school discipline and pushout like suspensions and expulsions that sends our children into the "school-to-prison pipeline." We advocate for true safety, which comes through positive discipline alternatives like restorative justice.
En 2004, lanzamos esta campaña para poner fin a la dura disciplina escolar y expulsión como suspensiones y expulsiones que envían a nuestros niños al camino de las escuelas a las cárceles. Defendemos la verdadera seguridad, que viene a través de alternativas de disciplina positiva como la justicia restaurativa.
Health, Food, and Recess Campaign / Recreo Para Todos y Campaña de Salud
In 2005, we launched this campaign to win the return of recess to Chicago schoolchildren, who deserve the chance to play and be children at school. In 2012, we won—and in 2021, we brought recess to all elementary-age schoolchildren in Illinois! We also advocate for quality food and health care (including mental health and trauma services) options for our families and neighborhoods.
En 2005, lanzamos esta campaña para ganar el regreso del recreo a los estudiantes de Chicago, que merecen la oportunidad de jugar y ser niños en la escuela. En 2012, ganamos—y en 2021, ¡llevamos el recreo a todos los estudiantes de edad primaria en Illinois! También abogamos por opciones de alimentos y salud de calidad (incluso servicios de salud mental y trauma) para nuestras familias y vecindarios.
Early Learning Campaign / Campaña de Aprendizaje Temprano
In 2008, we launched this campaign to expand access to quality early learning opportunities like preschool and Head Start, and to overcome the barriers that keep low-income children from enrolling in programs including early intervention, home visiting, and childcare.
En 2008 lanzamos esta campaña para expandir el acceso a oportunidades de aprendizaje temprano como prescolar y Head Start, y para superar las barreras que impiden que los niños de bajos ingresos se inscriban en programas incluso intervención temprana, visitas de casa y cuidado infantil.
Stepping Out of Poverty Campaign / Campaña Saliendo de la Pobreza
In 2009, we launched this campaign to advocate for programs and policies that help low-income African American and Latino families achieve economic security and save for their future. Parent leaders across Illinois completed debt surveys with families from across the state and are now leading campaigns on those issues and fighting and winning around Guaranteed Basic Income!
En 2009, lanzamos esta campaña para abogar por programas y políticas que ayuden a familias afroamericanas y latinas de bajos ingresos a lograr seguridad económica y ahorrar para su futuro. ¡Padres lideres en Illinois completaron encuestas de deuda con familias de todo el estado y ahora están liderando campañas sobre esos temas y luchando y ganando en torno al Ingreso Básico Garantizado!